D-Day Ceremony at Juno Beach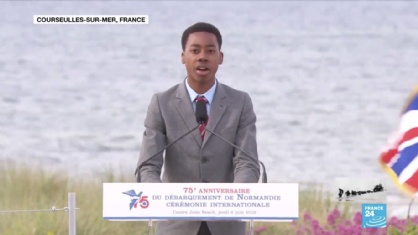 Some of our Year 8 pupils travelled to Normandy to take part in the ceremony on Juno Beach to mark the 75th anniversary of D-Day.
The boys arrived in Normandy and had the opportunity to look at a replica landing craft, similar to the ones used 75 years ago in the Allied invasion of mainland Europe. They were all amazed when they found out the huge number of troops that each craft carried across the Channel.
At a ceremony in Bayeux, the boys watched the arrival of some of the veterans who took part in the storming of the beaches, something which they all found inspirational.
Later in the day, the Summer Fields party attended the French International Commemoration at Juno Beach which included veterans and dignitaries, including Edouard Philippe, the French Prime Minister and his Canadian counterpart, Justin Trudeau. Chinweike and Somers both impressed with their readings, delivered to the crowd of over 4,000 invited guests. Blake carried the United Kingdom flag as part of the ceremony.
The boys returned to school having gained a invaluable insight into the significance of the events of June 6, 1944 and grateful for the opportunity to be a part of this memorable and important occasion.