Bursaries
Summer Fields is committed to ensuring a Summer Fields education is open to the brightest pupils no matter their personal circumstances. We do this by offering assistance with fees, known as a 'bursary' to families.
What is a bursary?
A bursary is a reduction in the fees charged by the school to parents for a child's education. The reduction can range from 25% up to 100%.
A bursary reduces the amount the pupil's parents, legal guardians or fee payers ('Parents') pay for the pupil's education at Summer Fields.
WHO IS ELIGIBLE FOR A BURSARY?

Bursaries are available for boys joining Summer Fields most typically in Year 6 and Year 7. All applicants must meet the minimum academic standard of entry and there must be a genuine financial need for assistance with fees.
All bursaries are 'means-tested'. The amount of help with fees depends on each family's circumstances. Family assets, income, liabilities and lifestyle will all be taken into consideration.
Where demand exceeds funds available for bursaries, awards will be made on the basis of the applicant's potential and performance in the entry assessments.
In addition, each pupil to whom support is offered must, in the opinion of the Headmaster, be likely to make sound academic progress following admission and possess the potential to develop the quality of their work, and benefit from participation in the wider, extra-curricular activities on offer at Summer Fields.
HOw DO I APPLY?
In the first instance, please register your child with our Registrar, Mrs Christine Berry and indicate that you would like to apply for a bursary. Email:
admissions@summerfields.com
Tel: 01865 459204 / 07483 357895. Applications should be submitted by the end of October of the year prior to entry. Means-testing is conducted in partnership with a third party. Parents are required to provide evidence of their financial circumstances.
WHO DECIDES ON THE LEVEL OF BURSARY AWARDS GIVEN?

The Maclaren Foundation awards are assessed by the Board of Trustees with advice from the Headmaster and the Director of Finance. Further bursaries may sometimes be made available at the discretion of the Headmaster.
HOW IS THE LEVEL OF BURSARY AWARD DECIDED?

Bursary awards are made following a financial evaluation based on a combination of family income and the value of assets and liabilities. A range of other criteria will also be reviewed including ownership of second properties, number of dependents, additional incline potential for those parents not in full-time employment, lifestyle and holidays, the potential for additional support from family members, pension contributions, and the ability to release capital where assets and property exist. The school does not disclose specific financial thresholds or details criteria used in the financial evaluation.
IS MY SON'S APPLICATION TO SUMMER FIELDS NEGATIVELY AFFECTED BY APPLYING FOR A BURSARY?
Applying for a bursary will never negatively impact the likelihood of a pupil being awarded a place at Summer Fields.
IS THERE A DEADLINE FOR BURSARY APPLICATIONS?

Applications should be submitted no later than the end of October of the year prior to entry.
HOW DOES A BURSARY DIFFER FROM A SCHOLARSHIP?

Bursaries are 'means-tested' which means they take into account a financial need, whereas scholarships recognise achievement regardless of financial need.
Who will know my child HAS BEEN AWARDED a bursary?
Bursaries are always treated confidentially. Only those responsible for awarding your child's bursary will know your child has been awarded a bursary.
WHAT MUST I DO IF MY FINANCIAL Circumstances CHANGE?
If you are already in receipt of a bursary then you must advise the School of any important changes in your financial circumstances as soon as possible.
HOW OFTEN ARE BURSARY AWARDS RE-ASSESSED?

Bursary awards are reviewed annually when in the Lent term the schools sends parents a request to update their financial information. Existing bursary holders can expect requests for updates on their financial situation from time to time. The updated information is then reviewed by the school and awards can either be increased or decreased according to changes in circumstances. Continuing bursary support is subject to a pupil making good academic progress, demonstrating satisfactory behaviour, and contributing positively to school life.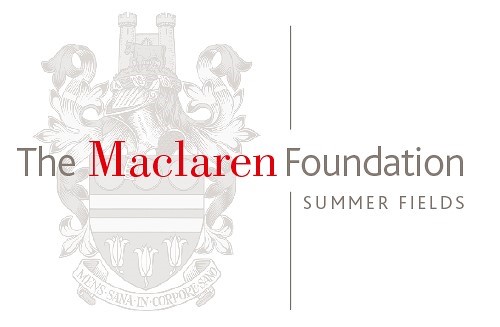 The Maclaren Foundation is a registered charity established to provide long-term financial support for means-tested bursaries for pupils at Summer Fields Prep School.